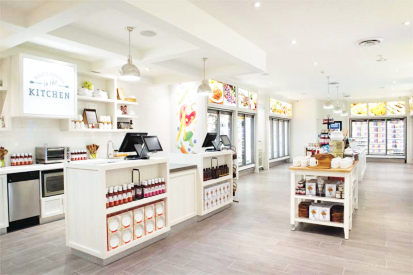 When Canadian frozen-food retailer M&M Meat Shops was recently rebranded as M&M Food Market, one major component of this transformation was implementing a 'self-serve' shopping model for its stores. Where customers had previously placed their orders with staff at a counter, now they would instead retrieve the products from the freezers on their own. As such, wayfinding graphics became important elements of the retailer's interior decor for the first time.
最近,加拿大冷冻食品零售商M&M肉店被重新命名为M&M食品市场,这一变革的一个主要原因是,这家商店实施了一种"自助"的购物模式。在过去,广大消费者只能通过柜台人员付账的形式来购买食品,而现在,他们可以从商店自己检索产品,这一模式得益于导视标识的应用,导视标识的推广,为食品市场带了很多便捷和发展,因此,导视标识慢慢成为了零售商店室内装饰的重要部分。
Time for a change
改变的时候到了

M&M was acquired by Search Light Capital in 2014. Along with this change in ownership, it became clear the organization would have to make some other changes to continue to remain relevant in the marketplace by attracting and meeting the needs of a new generation of customers.
M&M公司于2014年被Search Light Capital收购。随着所有权的变化,组织必须找到一些吸引客户的运营模式来满足他们的需求,并进一步改变市场,保持在市场上的竞争力。
M&M's brand was new and innovative when it was launched in 1980. Nearly 35 years later, it had certainly become well-entrenched across the country, with more than 340 locations and eight million loyalty club members, but it had not changed much and was seeing a decline in traffic.
M&M品牌是1980年被推出,近35年来,全球共有340多个地方和对这个品牌热衷的800万忠实粉丝,当然,尽管品牌的理念和形象已经深入人心,变得根深蒂固,但是,如果一个品牌一直没有创新和改变,那么我们依然会看到销售额的下降,毕竟,市场的竞争力确实很大。
The notion of the 'castle wall' between the staff and the customers was outdated, long since abandoned by many other retailers, and the plain 'no-name' packaging—all white, with blue type—was a missed opportunity in terms of visual branding.
有了导视标识,工作人员和广大消费者之间的关系悄然变化,很多零售商都开始做出改变,将之前简单无任何设计的包装,变成了以视觉吸引消费者的美化器。
"Our research found M&M wasn't top-of-mind for Canadians when it came to everyday foods," says Andy O'Brien, the retailer's president and CEO.
零售商总裁兼首席执行官Andy O'Brien表示:"根据我们的研究发现,对于加拿大人来说,M&M并不是日常食品的首选。"
Market disruption
市场中断

Toronto-based graphic design firm Shikatani Lacroix was brought on-board to work alongside market research agency Sklar Wilton & Associates, advertising firm Riddoch Communications and customer experience (CX) agency Fifth P to support M&M's transformative reinvention. Their research and development (R&D) efforts included designing a new logo and website, creating new staff uniforms, reimagining the frozen food packaging and, as mentioned, devising a modernized store concept.
位于多伦多的一家平面设计公司Shikatani Lacroix加入了市场研究机构Sklar Wilton&Associates一起工作,以支持M&M品牌的变革性改造。他们的研究和开发工作包括设计一个新的标识和网站、重新定制员工的制服、重新定义冷冻食品包装,总之,他们要设计一个现代化的概念商店。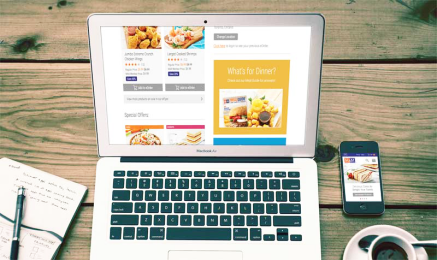 "We began working with their senior management team in early 2015, reviewing what was going on in the food retail market," says Richard Dirstein, principal and executive vice-president (EVP) of design and innovation for Shikatani Lacroix. "This involved looking at how frozen food was sold elsewhere. The market had evolved significantly and, while M&M was still adding great new products, the CX was lacking. They wanted to be disruptive in this respect."
Shikatani Lacroix的设计主管兼执行副总裁Richard Dirstein说:"在2015年初,我们就开始与高级管理团队合作,一起审查食品零售市场,审查的工作涉及到如何在其他地方出售冷冻食品,虽然 M&M 增添了一些新的产品,但是销售并不乐观。
"The longstanding practice of over-the-counter service did not allow customers to explore the full range of products," adds Jean-Pierre Lacroix, president of Shikatani Lacroix. "It was time to put control in their hands."
Shikatani Lacroix的总裁Jean-Pierre Lacroix补充说:"长期以来,让客户自己去寻找所需系列的产品是不科学的,而现在,他们自己去完成所有的购买操作流程了。"
The challenge, however, was to modernize the stores without alienating the significant existing customer base, while meeting the needs of the franchisees and other stakeholders.
然而,最大的挑战是使商店变得现代化的基础上,也不会疏远现有的客户群,同时也能满足经营者和其他利益相关者的需求。
An aspirational approach
一种理想的方法

The design team identified several issues along M&M's existing 'path to purchase.' With the aforementioned plain packaging, for example, the retailer relied heavily on mailing out colourful flyers to market its products to customers outside the stores. And once those customers were inside the store, they suddenly had to make their selections from a crowded menu board, a cumbersome binder or even the same weekly flyer, embedded underneath a polycarbonate countertop.
设计团队根据M&M现有的购买路径发现了几个问题:1,食品的包装非常简单,无法吸引广大消费者的眼球从而增加购买欲望;2,零消费者在商店内购买食品,需要从一个拥挤的菜单板或传单上进行选择,会浪费很多时间。
"Today's customers are time-starved and may not have their meals planned," says Dirstein. "We needed a new way to educate them about the products inside the plain boxes—and not just the items that happen to be on sale during a given week. So, we redesigned the packaging to allow customers to shop on their own."
Dirstein说:"现在的人时间充忙,可能没有足够的时间来计划进餐,因此,我们需要一种新的方法来改善这种情况,不仅仅只是在一周内出售这些食品,而是要带给消费者带来方便和实用。所以,我们开始重新设计购买模式,让客户自己去购物。"
Improving the experience involved moving away from the order-taking model. The new approach involved complementing in-store graphics by assigning store staff as 'meal advisors,' to better engage with and support customers, showcase specific products and seasonal campaigns, introduce new features and suggest recipe ideas.
新的购买方式会涉及到订单模式,这种订单模式是将商店的员工扮演为"膳食顾问"的角色,更好地与客户接触,把信息传递给客户,例如,展示特定产品和季节性活动,介绍产品新功能和给消费者提供一些食谱创意。
"We got rid of bottlenecks and now the staff is shoulder-to-shoulder with the customers," Dirstein explains. "What used to be a functional, pragmatic experience is now more hands-on, personal and emotional. It's like an aspirational kitchen. We want to inspire customers to become 'pros' in their own kitchens at home."
Dirstein解释说:"我们终于摆脱了瓶颈,这种多功能的实验让消费者有了更多自己动手完成购买的机会,就像一个理想的厨房,我们希望激发客户在自己家里的厨房一样,成为美食的创造者。
From prototype to final concept
从原型到最终的概念

Two prototype concepts, referred to as 'Kitchen' and 'Timely,' were launched as test locations in September 2015 in Kitchener, Ont.—where M&M was founded—and then monitored. Both performed very well over the following four months, receiving extremely positive feedback from customers.
2015年9月,在安大略省基奇纳成立的两家概念商店被称为"厨房"和"及时",这两个食品商店是将导视标识应用在食品市场的测试地点。在接下来的四个月里,两个商店都获得了非常好的收益,同时也得到了客户的肯定与反馈。
In the end, the final retail concept was mainly Kitchen, with some elements of Timely. It was launched in January 2016 in Burlington, Ont., before being rolled out to other locations.
最后,拥有导视标识的概念商店于2016年1月在安大略省伯灵顿市推出,后来也推广到其他地方。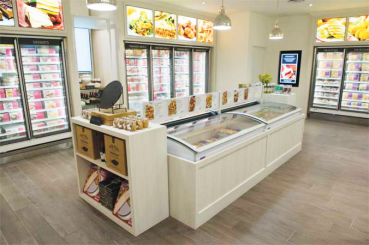 The name change was publicly announced at a national level in March 2016, with the release of millions of new flyers, the redesigned website and new social media platforms.The new stores feature signage and merchandising displays colour-coded by food category (e.g. meat, bread or dessert), corresponding to the design schemes of the new packaging.
2016年3月,概念商店的名称进行变更,他们开始发布数百万张新传单,重新设计网站和社交媒体平台。食品商店开始以食品类别(如肉类, 面包或甜点)进行划分,来对应新包装的设计方案。
"Imagery really drives the in-store atmosphere," says Dirstein.
Dirstein说:"导视标识真的可以增添店内的氛围。"
Full-colour photo-quality graphics help customers navigate more than 400 stock-keeping units (SKUs). Given the selection of these products varies with the size of each store, the sign system is scalable and modular. The graphics also appeal to customers' appetite, of course, and dovetail with M&M's slogan, 'Helping You Make Real Food for Real Life.'
导视标识可帮助消费者浏览400多个食品选项,每个商店的产品会有所不同,所以标识系统是模块化,提供大概方向的。当然,精美的图案能吸引客户的胃,这一点与M&M品牌的口号"帮助您在现实生活中做出真正的美食"主题相吻合。
"We reshot all of the products and defined the colours for each department," says Dirstein. "We also added a wayfinding menu for the front of the store. We wanted to design a stress-free shopping environment where customers could be inspired by great food stories."
Dirstein说:"我们重新整理所有产品,并为每个产品的包装进行精美的设计。我们还在商店前面部署了一个寻路导视系统,来塑造一个舒适的购物环境,给客户带来更好的体验,创造更多的美食故事。"
The plain white of the earlier packaging, meanwhile, now appears on the walls, along with grey and beige, to simulate the ideal clean kitchen space, illuminated by pendant-style lighting. The decor's neutralized colour palette helps the graphics and packaging stand out better.
与此同时,他们将商店部署成一个丰富多彩的视觉世界,从而提高消费者的食欲,例如,他们利用吊坠式暖色照明来照亮整个消费空间。
"The new designs really allow a lot more opportunity for our food to be the hero," says Allan Lindsay, M&M's vice-president (VP) of marketing and technical services. "Shikatani Lacroix designed a more contemporary and accessible retail concept, from the stores to the packaging to the online experience."
M&M品牌的副总裁Allan Lindsay说:"新的设计真的让我们的食物变得越来越有生命力,Shikatani Lacroix设计了一个现代化便捷的零售概念,这个过程是从商店到包装设计,再到在线体验。"
One of the prototype stores had featured interactive digital signage to help customers mix and match ingredients.
越来越多的食品商店安装了交互式数字标牌,以帮助客户进行自助服务。
"While these screens were not carried forward into the rebranded stores, their functionality got picked up instead for the website, which helps customers with meal planning," says Dirstein.
Dirstein说:"这些数字标牌的功能替代了网站,有效地帮助客户进行购物计划。"
A national rollout
国家推广

The updated design continues to be rolled out to both new and existing M&M stores across the country.
导视标识的设计继续被推广到全国各地的M&M商店。
"Every owner can't wait to get his/her store updated and transformed," says Dirstein. "They understand the need to look ahead to stay competitive."
Dirstein说:"每个业主都迫不及待地将他的店铺更新,他们开始明白导视标识的应用能有效地帮助他们保持竞争力。"
The design firm developed a standards manual that M&M's internal teams will continue to follow for future projects.
至此,M&M品牌的内部团队将继续关注未来的项目,为公司制定了一系列标准手册。