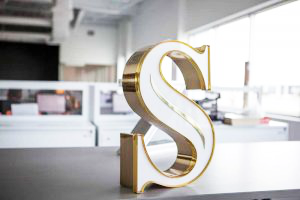 While neon illumination is still part of today's sign industry, light-emitting diodes (LEDs) have largely replaced it, both for skeletal 'script' designs and inside channel letters. These so-called 'faux' neon applications have become increasingly popular because they better meet clients' requirements in terms of energy consumption and safety, as LEDs are more efficient than neon, do not use mercury, and are less likely to break.
霓虹灯曾是标识产业的主流材料,但自从LED大量生产之后,霓虹灯的使用率就大幅减少。这些所谓的"人造"霓虹灯越来越受欢迎,不仅是因为LED的成本低于霓虹灯,还因为LED具有长寿和耐用性。
Even as sign shops try to mimic neon with LEDs, however, it is important to consider the differences between the two illumination methods, as such differences will play a role in how signs are engineered for optimal performance.
用LED模仿霓虹灯并不是一件容易的事,必须考虑二者之间的差异,因为这种差异直接影响如何设计标识才能更好的达到产品的最佳性能。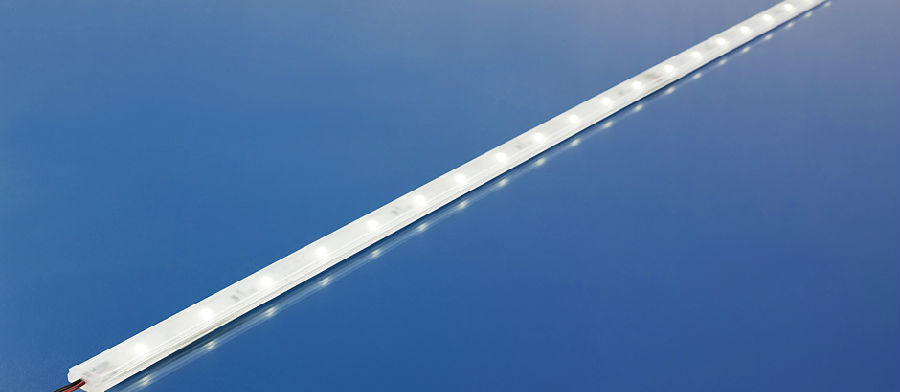 Different by design
与众不同的

设计
As light-emitting diodes (LEDs) have evolved to become slimmer, they have enabled very thin strokes for a more polished edge and look when installed along the sides of a sign can with a routed acrylic face.
随着技术的发展,LED也变得越来越轻薄,轻薄的LED更加适合安装在标识的侧面,虽然LED变得迷你,但是它发出的光依旧锋芒。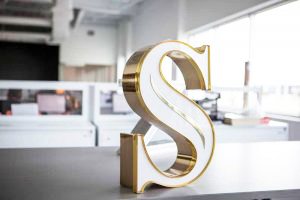 LEDs really 'arrived' in the sign industry in the early to mid-2000s, but the technology has come a long way since then, thanks to continual research and development (R&D). As a result, client requests for a vintage neon look, without actually using neon, can more feasibly be addressed today.
LED正式进军标识行业也是进入21世纪后的事情,随着LED产业不断的研发,技术已经取得了长足的进步,优势也远远多于霓虹灯。因此,客户在不使用霓虹灯的情况下,对复古霓虹灯外观的要求如今可以得到更切实的解决。
That said, the two technologies are very distinct. And when people look at a neon sign in comparison to an LED-based mimicry, their eye will always pick up which one is not the real thing.
虽然两种技术截然不同,不过用LED制造的霓虹灯模仿品足以以假乱真。
The appearance of an LED-based sign might be similar to a neon sign when looking at it straight on, for example, but since LEDs are direct light sources, they cannot achieve a 360-degree circular illumination effect. Their limit, by design, is 180 degrees, which affects viewing angles and shadow effects. Also, the sheer brightness of neon and glass cannot be achieved with LEDs and plastics.
但LED也有缺点,因为是直接光源,照明范围只有180度,所以无法实现霓虹灯360度无暗区效果。LED指示灯的外观类似于直射时的霓虹灯,一定情况下会影响观看角度和阴影效果。
On the other hand, as LEDs have evolved to become slimmer, they have enabled very thin strokes for a more polished edge and look when installed along the sides of a sign can with a routed acrylic face. This arrangement can provide a more refined appearance for an upscale client's sign than the glare of neon, particularly for indoor applications, which tend to be viewed from closer up than their outdoor counterparts.
另一方面,随着LED芯片变得越来越小,LED的模组也变得纤细,这让安装在标识边缘的灯条看起来异常精致。与霓虹灯的强光相比,这种布置可以为高档客户的标识提供更高端的外观,特别是有些室内标识往往比室外标识更适合近距离观看。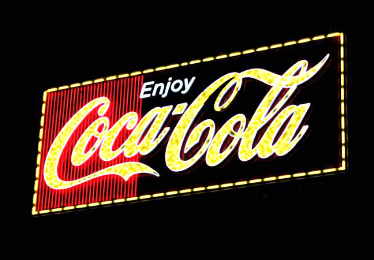 On that same note, an indoor sign is more likely to be within reach for passersby. Using LEDs to mimic an 'exposed' look for a sign people can touch is a safer option than installing a neon sign that needs to be protected with a polymethyl methacrylate (PMMA) face.
同样,对于路人来说,LED的室内标识安全性更高,因为有些人总是会不自觉的去触摸商店里的标识,用LED标识代替玻璃外壳的霓虹灯标识有效的提高了安全性。
Supply and demand
供给

与

需求
Border tubing, for example, has transitioned away from neon and toward light-emitting diodes (LEDs).
霓虹灯逐渐减少,现在已经是LED的时代了。
Another reason for the popularity of faux neon is the dwindling supply of the real thing. It has become increasingly difficult to source neon transformers and related components, let alone find and hire a neon glass blower.
LED普及的另一个原因是真正的霓虹灯供应量越来越少。霓虹灯变压器和相关元件的采购越来越困难,更不用说找到和雇佣霓虹灯玻璃工人了。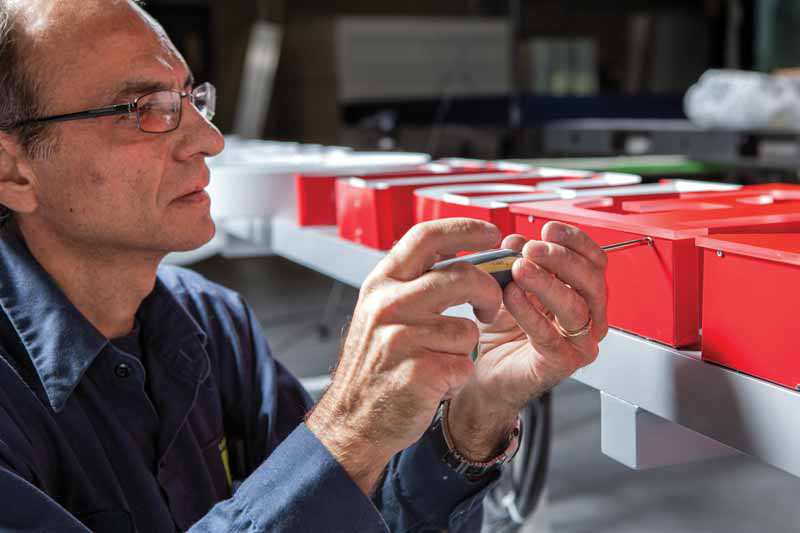 Traditional neon signmaking has become something of a niche industry. It has found renewed interest for one-off projects, including backdrops for video shoots. When a client needs numerous signs, on the other hand, the logistics and safety issues of neon arise, as does the difficulty of sourcing enough components.
传统的霓虹灯已成为一个利基市场。有些霓虹灯又重新回到一些行业的视野中,比如视频拍摄的背景。但当客户需要大量的霓虹灯标识时,霓虹灯物流和安全又成为新问题,采购足够的元件也会出现一定的困难。
Even sufficient supply can be countered by reduced demand. Montreal-based Groupe Dynamite's Garage fashion retail brand still uses neon for its big storefront signs domestically, but as it has expanded overseas, it has turned to LEDs instead. In Saudi Arabia, for example, this is because companies are prohibited from importing glass and mercury.
即使有足够的供应,但需求的减少是必不可免的。总部位于蒙特利尔的Groupe Dynamite的时尚零售品牌Garage仍在国内使用霓虹灯作为其大型店面标识,但随着它在海外的扩张,它转而使用LED灯。因为在沙特阿拉伯,公司禁止进口玻璃和水银,所有霓虹灯不能被采用。
These types of concerns have driven both the retrofitting of neon signs with LEDs and the design and fabrication of wholly new signs. The last six to seven years of R&D have helped narrow the gap between the two technologies' esthetic effect, but there is still room for improvement.
诸如此类的担忧推动了LED的制造与发展。最近六到七年的研发帮助LED缩小了与霓虹灯审美效果之间的差距,但仍有改进的空间。
Taking a custom approach
采取

特定

的方法
Ultimately, achieving the desired appearance is not a matter of sourcing the right materials, but of how those materials are processed. Acrylic is acrylic; it's a question of how it is machined with a computer numerical control (CNC) router to best mimic the edge and finish of glass. The final thickness and polish of the acrylic will have a significant effect on the appearance of the sign, as will the colour of the back of the LEDs' lenses. There are specialty films and products that can be incorporated into a project.
最终,材料的选择饼鼻影响成品的外观,材料的如何使用才是外观的关键性因素。这是一个如何用计算机数控来模拟玻璃边缘和光洁度的问题。丙烯酸的最终厚度和抛光将对标识的外观产生显著的影响,LED镜片背面的颜色也将如此。
With this in mind, a sign shop may well need to tool its own dies and meshes, rather than rely on off-the-shelf (OTS) tooling. Components can be mixed and matched in-house for optimal effect.
考虑到这一点,标识店可能需要使用特定的模具,而不是随便一个现成的工具就可以。所有的模组都必须正确的安装和匹配,才能达到最佳效果。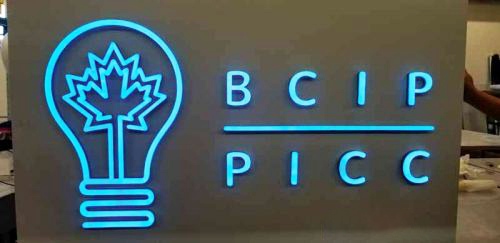 Even the best-quality LEDs need to be well-managed. While white neon signs used to encounter performance issues in cold temperatures, LEDs have just as much of an issue with heat buildup, which can be challenging to avoid when they are made available in ever smaller, more compact modules. Hence, North American sign shops need to find ways to work with major LED manufacturers, which are largely based in Asia, to ensure their signs can be engineered to meet their customers' needs, including safety and longevity.
即使是最优质的LED也需要妥善管理。低温下的白色霓虹灯会遇到性能问题,LED也同样存在热积累问题,当它们在更小,更紧凑的模组中使用时,很难避免这种问题。因此,北美标识商店需要与总部位于亚洲的主要LED制造商合作,以确保他们标识足够安全和长寿