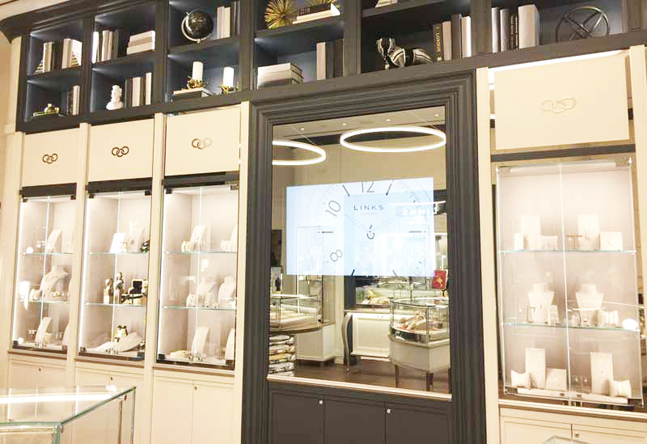 As the lines between digital signage and traditional audiovisual (AV) technologies blur, they continue to share the common need for physical installation services, referred to here, as the "mechanics" of an installation. A better understanding of the strategies, processes, and management procedures in the mechanics of an AV installation, whether it be digital signage or a more traditional presentation type solution, will greatly improve the quality of the installation and the journey getting there.
随着数字标牌和传统视听(AV)技术之间的界限变得模糊,他们继续分享对物理安装服务的共同需求,这里称为安装的"机制"。更好地了解AV安装机制中的策略,流程和管理程序,无论是数字标牌还是更传统的演示类型解决方案,都将极大地提高安装质量并快速的实现目标。
The mechanics not only include the components, such as hardware and software, but also system design, procurement, physical installation, project management services and, above all else, people. All AV installations involve the need for a good team. All too often, an installation team is summarized as the customer and an AV reseller. However, the truth is it is rarely a one-stop shop experience. Installation partners often include electricians, general contractors, information technology (IT) specialists, architects, and engineering firms, many of whom are not on an AV reseller's team. That said, all of these partners need to work together.
这些机制不仅包括硬件和软件等组件,还包括系统设计,采购,物理安装,项目管理服务以及最重要的人员。所有传统视听的安装都需要一个优秀的团队。安装团队经常被统称为为客户和传统视听服务的经销商。然而,事实是它很少是一站式的商店体验。安装合作伙伴通常包括电工,总承包商,信息技术(IT)专家,建筑师和工程公司,其中许多人不在传统视听的经销商的团队中。也就是说,所有这些合作伙伴需要共同努力。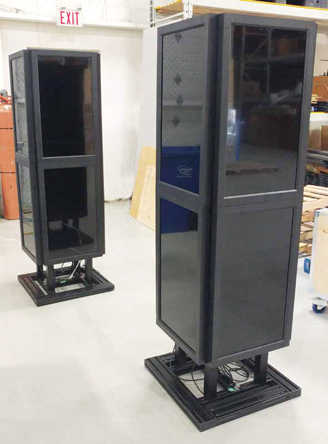 The right AV reseller
合适的传统视听经销商
Though the AV reseller is only one of the team members, this person typically plays a key role. For instance, they not only provide the majority of the mechanics, but also typically act as a sounding board for the customer when flushing out the project's vision. Excluding the customer, the AV reseller likely knows the goals and understands the vision better than any other team member. That said, how does one identify the right AV reseller for a particular AV project? Although not a guarantee, considering some, if not all, of the criteria below can help.
虽然传统视听经销商只是团队成员之一,但这个人通常扮演着关键角色。例如,他们不仅提供大部分机制,而且通常在阐明项目远景时充当客户的顾问。除了客户,传统视听经销商可能比任何其他团队成员更了解目标并更好地理解愿景。那就是说,如何为特定的传统视听项目找到更合适的传统视听经销商?虽然不是保证,但考虑下面的一些(如果不是全部)标准可以提供帮助。
• Experience—ask for references and past project examples that are similar to the current project. Examine their credentials, ask questions, and verify they have the necessary knowledge and skills to undertake the project.
经验——询问与当前项目类似的参考和过去的项目示例。检查他们的证书,提出问题,并验证他们是否具备进行项目所需的知识和技能。
• Team player—an AV reseller will be part of a team. Whether that means leading or following, he/she is a valuable asset to any project installation.
团队成员——传统视听经销商将成为团队的一员。无论是领导还是成员,他/她都是任何项目安装的宝贵资产。
• Responsive—do they show up on time and come equipped with the right information? Do they reply to questions and tasks in a timely manner? Problems during the selection process should be a red flag when it comes to future problems.
响应——它们是否按时出现并配备了正确的信息?他们是否及时回复问题和任务?在选择过程中出现的问题应该是将来出现问题的一个危险信号。
• Innovative—all AV installations should include solutions using current technologies, take advantage of the unique environment of the project, and examine more than one way to achieve the goal. Thinking outside the box helps build a better mousetrap.
创新——所有视听设备应包括使用当前技术的解决方案,利用项目的独特环境,并检查实现目标的多种方式。跳出思维定势有助于创造一个更好的想法。
• Fiscally responsible—the cheapest price is not fiscal responsibility! Finding solutions that take advantage of alternate components, unique site assets, or taking advantage of manufacturer's promotions—such as volume discounts—is fiscal responsibility. All costs need to be presented in writing to minimize "price creep."
财政责任——找到利用替代组件、独特的站点资产或利用制造商的促销手段(如批量折扣)的解决方案是财政责任。所有成本都需要以书面形式表示,以最小化"价格蠕变"。
• Clarity—often, AV projects include technology that many people have little knowledge of or experience with. Having an AV reseller who can articulate "tech speak" into "non-tech speak" can be important in conversations with all team members. If one does not know what they are getting for his/her money it is important to ask for clarity!
清晰度——通常,传统视听项目包括许多人几乎不了解或没有经验的技术。在与所有团队成员的对话中,拥有能够将"技术说话"表达为"非技术性说话"的传统视听经销商可能非常重要。如果一个人不知道他们从他/她的钱中得到了什么,问清楚是很重要的!
Having a plan and sticking to it
制定计划并坚持下去
Like any system, an AV installation needs to start with a plan—no matter how simple a project is. Making a plan and sticking to it avoids problems such as budget creep, compatibility, or delays. Everyone on the team should be aware of the plan and know what procedures to take should it need to be changed.
与任何系统一样,传统视听安装需要从计划开始——无论项目有多简单。制定计划并坚持下去可以避免预算超标,兼容性或延迟等问题。团队中的每个人都应该了解该计划,并了解需要更改的程序。
The plan should include system design considerations, procedural factors for site work, documentation around safety issues, and reporting methods. The plan may only be a verbal discussion followed up with some e-mails or it may be a physical document for more complex builds, but it does need to be understood and agreed to by the team prior to commencing the project.
计划应包括系统设计考虑因素、现场工作的程序因素、有关安全问题的文档和报告方法。计划可能只是口头讨论,然后是一些电子邮件,也可能是更复杂构建的物理文档,但是在开始项目之前,它确实需要得到团队的理解和同意。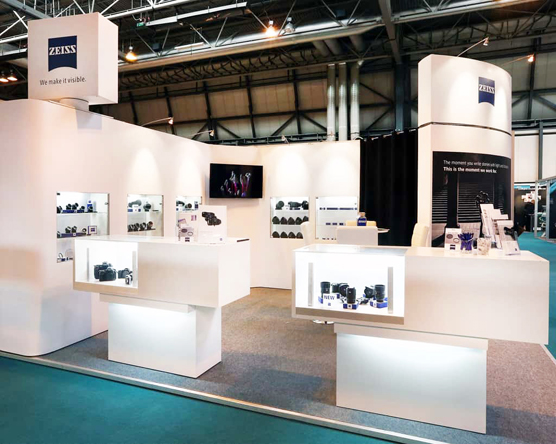 The following are some considerations to help get the right components for the project:
以下是帮助获取项目正确组件的一些注意事项:
• Functionality—does the component provide the right technology to meet the needs of the project? Putting square pegs in round holes never works.
功能——组件是否提供了满足项目需求的正确技术?将方形钉子放在圆孔中永远不会起作用。
• Manageability—does the component provide an easy-to-use interface for the end user? This is a particular concern in the case of software components, interactive devices such as touch screens, and control devices that interface with end users. The skill-level of the end user(s) using the component should also be kept in mind.
可管理性——组件是否为最终用户提供了易于使用的界面?对于软件组件、交互式设备(如触摸屏)和与最终用户交互的控制设备,这是一个特别需要关注的问题。还应该记住使用组件的最终用户的技能水平。
• Availability—can the component be sourced for the intended site? Having seen a solution in Paris does not mean the components are available in Anchorage, AK.
可用性——组件是否可以来源于预期的站点?在巴黎看到解决方案并不意味着这些组件可以在安克雷奇。
• Affordability—consider not only the initial cost for the component, but the long-term operability and ongoing maintenance. As an example, discreet light-emitting diode (LED) displays—both indoor and outdoor—are initially considered by many customers as "expensive," until looking at the long-term operability of the technology.
可负担性——不仅要考虑组件的初始成本,还要考虑长期可操作性和持续维护。例如,室内和室外的发光二极管(LED)显示器最初被许多客户认为是"昂贵的",直到着眼于这项技术的长期可操作性。
• Warranty—what is the warranty and what type is it? Many AV components come with either a "manufacturer's depot warranty" or an "on-site warranty." By definition, they are both warranties, but their implementation is very different. There are financial as well as esthetic implications when servicing is required. Having a black screen because parts are on order does not usually go over well at any presentation.
保修——什么是保修?什么类型的保修?许多传统视听组件附带"制造商的仓库保修"或"现场保修"。"从定义上讲,它们都是保证,但它们的实施是非常不同的。当需要提供服务时,既有经济上的影响,也有审美上的影响。由于零件已定购,所以出现黑屏问题往往是不太好的。
Selecting the right components
选择正确的组件
Component selection usually falls under the responsibility of the AV reseller but is commonly influenced by the customer. This discussion often starts with the line, "I saw this perfect installation when I was on a business trip. Can you build that?"
组件选择通常由传统视听的经销商负责,但通常受客户影响。这个讨论通常从这句话开始,"我在出差时看到了这个完美的装置。你可以建造吗?"
Audience—who are they? What type of installation might they respond to best? This will potentially impact things like height of visuals and whether or not audio is used.
他们是观众?他们对哪种类型的安装响应最好?这可能会影响视觉高度以及是否使用音频等内容。
Line of sight—unless the installation is audio only, one will want to examine the site to understand how the audience moves through the space. When will the intended audience be impacted by the installation? Is this engagement appropriate for the timing in their site journey?
视线——除非安装是纯音频的,否则人们会想要检查站点以了解观众是如何在空间中移动的。什么时候目标受众会受到安装的影响?这种参与是否适合他们的网站浏览的时间安排?
Ambient light—when thinking about the location it is important to understand how it appears at various times of the day. This is particularly important when it comes to ambient light. Sunshine across displays, unless they are high powered LED, will usually make the content difficult, if not impossible, to see.
环境光——在考虑位置时,了解它在一天中的不同时间出现的方式非常重要。在环境光方面,这一点尤其重要。阳光照射在显示屏上,除非它们是大功率LED,否则通常会使内容很难(如果不是不可能的话)被看到。
Sound—including audio components within an installation is an option that needs particular attention. Audio is a powerful sensory aspect of a presentation, but poor audio delivery is a sure way to disenfranchise the audience. On the other hand, audio can lead to frustration for anyone restricted to the location and having to listen to the same sounds repeatedly. Think about the "non-audience" such as staff within a retail space.
声音——在安装中包含音频组件是一个需要特别注意的选项。音频是演示的一个强大的感官方面,但糟糕的音频传输肯定会给观众特别差的体验。另一方面,对于那些被限制在某个位置的人来说,重复播放的糟糕音频可能会让他们感到烦躁,他们不得不反复听同样的声音。想想零售空间内的"非受众",例如商店里的员工。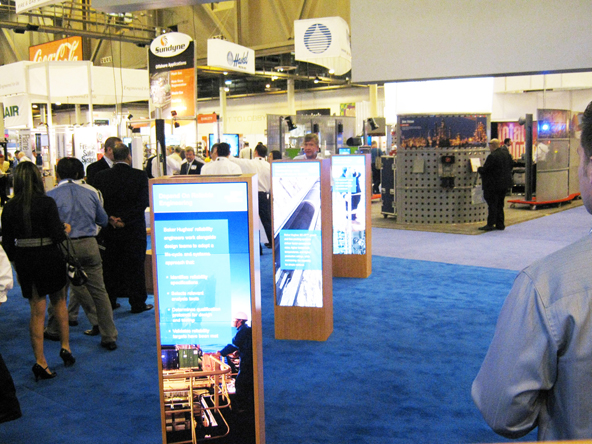 Esthetics—an often misunderstood aspect of any AV installation is the final esthetics. Unfortunately, AV technology has wires and cables, usually a lot of them. None of them are particularly attractive when dangling in a visible space. Also, think about wall treatments or enclosures for displays.
美学——任何传统视听安装经常被误解的方面是最终的美学。不幸的是,传统视听系统通常有很多电线和电缆。当它们出现在可见空间时,它们都不是特别有吸引力。此外,还要重点考虑墙面处理或显示器的外壳。
By simply recessing them into a wall, for example, the installation takes on a new perspective.
例如,通过简单地将它们凹进墙壁中,装置呈现出一种新的视角。
Accessible for all—sadly, many AV installations do not consider audience members with special needs. Visual, motor, and audio impairment requires special considerations. An interactive kiosk that is positioned too high for wheelchair access is not well planned. Government and private agencies exist to provide advice on how to make things more accessible in a particular space.
遗憾的是,许多影音装置并不考虑有特殊需要的观众。有视觉、运动和听觉障碍的人都需要特别考虑。一个互动亭的位置太高,导致轮椅无法进入。政府和私人机构的存在是为了提供建议,让人们在特定的空间创造更多的便利。
Passive or interactive—seeing a presentation is good, but remembering it is better. The use of interactivity, where appropriate, is more impactful then just passively viewing a presentation. Touchscreens are only one form of interactivity. Proximity sensors, interactive content (e.g. Twitter), lift-and-learn displays, and alternate input devices are other examples.
被动或互动——看演示文稿很好,但记住它更好。在适当的情况下,交互性的使用比仅仅被动地查看演示更具影响力。触摸屏只是互动的一种形式。邻近传感器、交互式内容(如Twitter)、升降式学习显示器和备用输入设备是其他示例。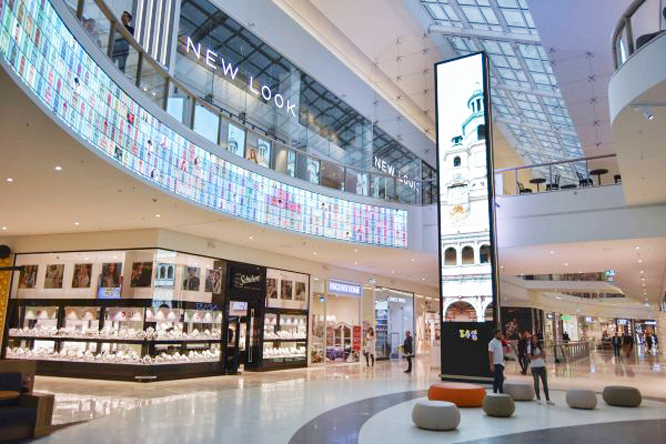 A final word
最后
There are many other considerations that can influence an AV installation. Even those presented in this article can be explored much deeper. Perhaps as a final thought, one should keep the following in mind for any AV installation:
还有许多其他因素会影响传统视听安装。甚至本文中提到的那些也可以更深入地探索。也许作为最后的想法,任何安装都应该记住以下几点:
• plan it;
计划;
• communicate the plan;
传达计划;
• know who is on the team;
了解团队成员;
• know the goal;
了解目标;
• ask questions when unsure; and
定时提出问题;
• think about what will keep it working tomorrow.
考虑明天的工作计划。
This unique four-sided trade show stand features eight displays per stand and custom extruded fixtures. The installation included assembly training for the client as well as an assembly/disassembly manual.
这个独特的四面贸易展的特点是每个展位有八个显示器和定制的挤压夹具。安装工作包括为客户提供装配培训以及装配/拆卸手册。