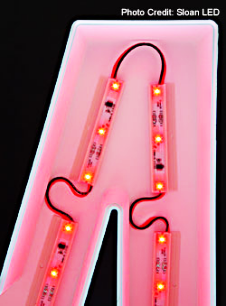 Channel letters fill a need for corporate IDs and building identity programs on the sides of building and have done so for decades. Times are changing and more than filling a need is that the channel letters are now filled in terms of their lighting source.
十几年来,槽型发光字充当着企业ID,并常常在建筑的两侧建立身份认证。现在,槽型发光字不单单只是为了满足客户的潜在需求,它同时扮演着多重角色,为企业带来额外的好处。随着技术更新的越来越快,槽型发光字中的照明源不断地在更新,当下已被LED照明所主导,标识制造商要开始精心打造槽型发光字中的每个组件,进一步开拓新的市场和商机。
Neon is still the undisputed illumination provider of channel letter lighting, but LEDs are definitely leaving their glowing mark along the way. This is not to say that one technology is better than the other, but that sign fabricators and end-users now have more choices in the best ways to design their sign lighting.
无可争议的是,霓虹灯仍然是槽型发光字最初应用的照明源,而LED照明是沿途开放的,即使LED照明技术比霓虹灯技术更有优势,但不意味着霓虹灯技术就此被LED照明技术所替代,这仅仅意味着标识制造者和终端用户有了更多的选择。
Although LEDs are available in the full range of primary colors, some LED colors perform better than others for channel letter usage. Red, which is the oldest existing LED, one of the brightest and also the least expensive, is obviously the most popular color employed in channel letter lighting. Other LED colors aren't always as bright as red, or as affordable. Thus other LED color selections are judged on a case by case basis of the sign size and how well the LEDs can illuminate it.
尽管LED具有全系列的原色,但其中红色使用起来效果最好,它不仅是最亮、最便宜,加是应用槽型发光字中最受欢迎的颜色。其他LED颜色并不像红色一样亮丽,或者价格实惠。但无论选择什么颜色的LED,都需要根据标识实际规格的大小来选择,以此才能实现最大亮度的照明。
The point of departure for LEDs and channel letters begins and ends at the manufacturers who fabricate the signs and ship them to resellers or installers for final deployment on a building. To gain some perspective of how well LEDs fit within channel letters, one LED lighting integrator, SloanLEDs of Ventura, California and two manufacturing companies; ESCO Manufacturing in South Dakota and Direct Wholesale in Denver, Colorado, were interviewed for a progress report on LEDs in the channel letter marketplace.
槽型发光字的制作由标识制造商完成后,将其运送给经销商或安装商进行部署。为了使LED更好的放置在槽型发光字中,位于加利福尼亚州的两家LED照明商做了一个有关LED如何在槽型发光字中更好的应用的报告。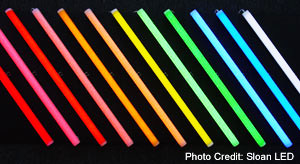 SloanLED was founded in 1957 to design and develop industrial lighting products. By the early 1970s, Sloan was a pioneer in LED technology and started using them mostly for instrumentation lighting. By 1997, the company began to apply LEDs to signage and within a couple of years, developed a series of products for channel letters and architectural applications.
SloanLED成立于1957年,一直在设计和开发工业照明产品。到20世纪70年代初,Sloan被公认是LED技术领域的先驱。到1997年,公司开始专门制作应用于标识行业的LED,在几年之内,他们开发了一系列应用在槽型发光字和建筑标牌上的产品。
Using appropriate LED systems that incorporated both a lighting unit and accompanying power supply, SloanLED developed three LED product applications, each supported with its own dedicated power supply. All SloanLED product lines are available in a range of LED colors including red, amber, yellow, green, blue and white. All SloanLED systems are modular in their design and can be cut to size in the shop or in the field to fit whatever shape and size is needed for the LED lighting application.
针对合并照明单元,SloanLED公司开发了三个LED应用程序,每个LED产品都含有独立的专用电源。这三个LED产品系列的颜色包括红色、琥珀色、黄色、绿色、蓝色和白色,系统均采用模块化设计,可切割成应用所需的任何形状和尺寸。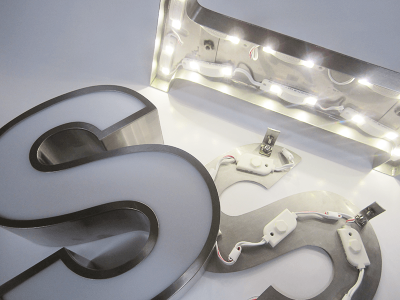 The first product line is ChanneLED4 which are flat PC board modules with specific colored LEDs attached to them. The board comes in three sizes depending on the color, a 4 inch board, a 2.5 inch board and a 1.5 inch board. Each format results in six LEDs per foot in a straight-way layout in a channel letter form. During assembly the ChanneLED4 modules can be wired in serial or parallel connections and can be easily attached with the pre-applied, self-adhesive or screwed into the channel letter form. ChanneLED4 relies on a 12 V DC power source with outputs that range between 1.2 watts/foot to 1.8 watts/foot.
第一个产品是ChanneLED4,它能自动连接到PC板。PC板会根据颜色不同,而形成三种尺寸:一个4英寸的电路板、一个2.5英寸的电路板和一个1.5英寸的电路板,每英尺的电路板在槽型发光字的布局中能放置六个LED。在组装过程中,ChanneLED4可以串联或并联连接,依赖于12 V直流电源,输出范围介于1.2瓦特/英尺至1.8瓦/英尺之间。
The second application is ThinLED which is used for reversed lit halo channel letters. Here the LEDs are mounted on a flexible backing with self-adhesive and in turn mounted directly to the edges of the LED letter forms. Once completely wired together, the channel letter is turned to face the wall. The projecting illumination will backlight the sign, creating a silhouette appearance of the letters against the wall. The system voltage ranges between 2.1 watts per foot and 3.0 watts per foot.
第二个产品是ThinLED,带有光环光晕效果,系统电压范围在每英尺2.1至3.0瓦特之间。这种LED一般被安装在具有自粘性的柔性背衬板上,或直接安装在字母的边缘,一旦完全连接在一起,字母会转向墙壁,照明的投影背光于标识,从而在墙壁外观上形成字母的光晕。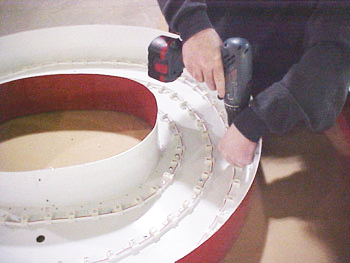 LEDStripe is an architectural lighting element that is a series of LEDs self-contained inside of an extruded tube, each tube being a full color of the complete range of colors that Sloan offers. The LED Strips can be cut to any size to conform to the sides or horizontal profiles of a building design. LEDStripe's voltage is 24 V AC and draws 2.8 watts per foot of product run.
第三个产品LEDStripe是一种建筑照明元件,拥有独立的挤出管,每个管都是Sloan公司制造的。这种LEDStripe可以切割成任何尺寸,以符合建筑设计的侧面或水平轮廓,电压为24 V ,产品的运行量为2.8瓦。
SloanLED's growth was observed by VP of Sales and Marketing, Ron Wallace who said that year after year the company has constantly increased their LED sales to the sign market. "We sell to sign supply distributors. Within the domain of channel letters, we see tremendous growth opportunities for LED usage, both in the retrofitting market and in new product applications."
SloanLED公司的营销副总裁Ron Wallace观察到LED照明应用的增长趋势,他表示:"我们看到了标识行业对LED照明技术的需求量程递增趋势,在槽型发光字的应用范围内,LED照明技术得到了很好的发挥,所以,我们会不断增加LED的产品量到标识市场的应用中。"
"About 10% of SloanLED's customers contact us about retrofitting neon with equivalent LED products. Within the next year or so, I expect that percentage to increase as more customers become price conscious over the cost and ongoing maintenance of operating neon."
Ron Wallace补充道:"约10%的客户一直与我们保持联系,在制作槽型发光字时,他们会使用LED照明来替换霓虹灯。由此我预计,越来越多的客户对LED照明需求量还会持续增加,因为LED照明比霓虹灯的成本要低。"
ESCO Manufacturing (Watertown, South Dakota) has been fabricating electric signs since 1965 and has nearly 80,000 square feet of sign manufacturing space located in the heart of the Midwest. The company manufactures aluminum extruded and angle iron frame internally illuminated sign cabinets in all sizes in standard or custom shapes. They also manufacture channel letters and rigid and flexible faces. Department Supervisor of the channel letter department, Jenny Zeck spoke of the impact of LEDs as a new component for lighting channel letters.
位于南达科塔州水镇的ESCO标识制造商,自1965年以来,一直从事数字标识的工作,在中西部地区拥有近8万平方英尺的制造厂,该公司不仅制造各种形状尺寸的灯箱,还制作各种刚性灵活的槽型发光字。制作槽型发光字部门的负责人Jenny Zeck谈到有关LED作为槽型发光字的组件所产生的效果。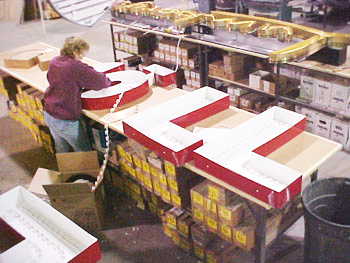 "We sell our signs to a variety of customers from the occasional end-user to mostly other sign manufacturers whose services do not include making electric signs. We started dealing with LEDs around 2002 and have seen a continuing demand for LEDs in some of our channel letter projects. Our LED kits come primarily from LED system integrators, particularly GELcore and SloanLED, both offering different kinds of LED lighting kits and each complete with its own power supply system. The majority of our LED use, as you'd expect, is with red. We also see occasional requests for other colors, however, most of them have a way to go to match the brightness levels and low cost that red offers.
她说:"从2002年,我们开始专门生产LED照明产品,我们向各种客户输出我们的产品,包括零散的终端用户,以及标识制造商。我们的LED套件主要来自LED系统集成商GELcore和SloanLED公司,他们为我们提供不同种类的LED照明套件,每套都配有专门的电源系统,无论是红色LED,还是其他颜色的LED,不仅能实现最低成本,还能达到一个令人满意的亮度水平。"
LEDs are deployed in two areas of channel letter lighting; the first is new signs where the preferred lighting source is LEDs. The second area is replacement for previously installed sign projects, where for reasons of cost savings, the sign owners have opted to change out the neon with an LED system. According to Zeck, "Most of our use of LEDs is putting it in the new channel letter signs that we build. Occasionally we have a retrofit request, and in that situation, we send out a pre-configured LED package of a preferred amount of LED lighting and a power supply to the sign distributor out in the field who then does the retrofit on site."
LED一般部署在槽型发光字的两个照明区域中:第一个区域是标识的主要照明区;另一个是专门用来更换之前安装产品的区域,为了节省成本,标识制作商会选择使用LED照明来更换霓虹灯。据Zeck介绍:"我们大多数使用LED都是应用在槽型发光字中,有时候需要进行一定的改装,在这种情况下,我们会发送出一个预先配置的LED包,然后将LED照明到安装现场进行改造。"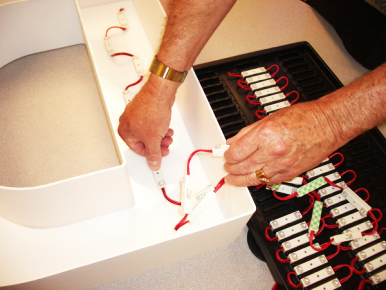 In one ESCO sign installation, a large Budweiser, closed-face channel letter project showed up on the shop floor, said Zeck. "This was a cursive letter style where each letter was about six feet tall and the total sign was about thirty-four feet in length with every letter populated with red LEDs. One benefit of using LEDs is you don't have to worry about corners or tight spots, especially with cursive fonts. The LED wire is flexible enough that you can bend it to follow the shape of each letter. Once finished, the Budweiser sign was lit up and we were happy with the results. There were no shadows or 'hot spots' on the sign face, and it was lit evenly between each letter."
Zeck还说:"我们曾经制作过一个大型"百威"的标识,"百威"的字体是草书,总标识长约三十四英尺,每个字母大约六英尺高,字母里面带有红色LED,使用LED的一个好处是你不必担心角落产生变形,特别是对于草书字体。LED足够灵活,可以按照每个字母的形状进行配合弯曲,整个标识不会出现任何阴影或黑点,字母之间的光亮非常均匀。"
In another sign installation, ESCO has fabricated Arby's signs with neon lighting for years, but then the client requested using LED illumination for new signs instead. The change was emphasized for both a cost savings in energy consumption and also for the opportunity to reduce the servicing aspects of the signs. Since LEDs burn for an average of 100,000 hours before beginning to loose intensity and are less susceptible to breakage, the client, said Zeck, was willing to initiate a replacement in the signs lighting configuration.
除此之外,

ESCO公司还制造了

美国老字号快餐连锁店

Arby'
s的霓虹照明标识,后来,在翻新
Arby'
s
标识的过程中,客户要求使用

LED来代替霓虹灯,他们认为使用LED能有效地节约能源和成本,减少维修。Zeck表示:"在一个LED产品出现问题之前,一般可以燃烧10万小时的寿命,并且不易破损,所以越来越多客户愿意在标识的照明配置中进行更换了。"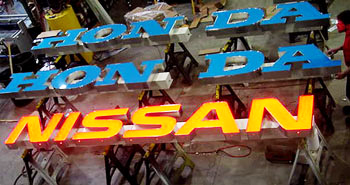 "We installed the LED units into the Arby's letters, in both the hat band of the sign and in the channel letters, altogether it was about 200 feet of red LEDs per sign. Once completed we ran some light tests using a light meter and discovered that the intensity of the LEDs was as bright, if not brighter, than the neon lighting that was previously used."
Zeck说:"我们将LED安装在Arby's的字母中,总共使用了约200英尺的红色LED,完成后,我们使用光度计做了一些简单的测试,发现LED的照明强度比以前使用的霓虹灯亮度更亮。
Direct Sign Wholesale (Denver, Colorado) is a wholesale manufacturer of channel letter signs and was started back in 1995. The company manufacturers their channel letter signs straight from their customer's shop drawings, fabricates the sign to completion and returns the finished product to sign distributors for delivery to their end-users.
位于科罗拉多州丹佛市的Direct Sign Wholesale公司,是一家专门生产槽型发光字的标识制造商,于1995年开始生产。该公司一般直接按照客户的图纸制作槽型发光字,完成后直接将成品送回分销商,再交付给客户。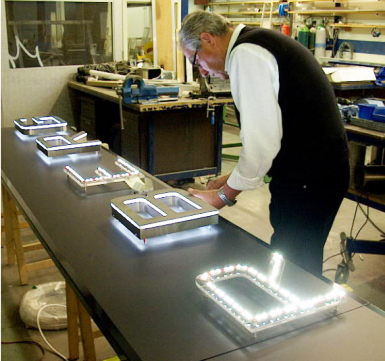 In the old days of channel letter fabrication (pre-LED), when a customer ordered a channel letter sign package, they always knew it would be a neon illuminated sign - end of story. Now, customers have choices about how they want their signs lit said Michael Bluhm, National Marketing Manager for Direct Sign Wholesale. "When our customer chooses LEDs for a channel letter project, it's usually based on its energy savings considerations. We have a lot of LED projects coming to us from national accounts with significant amounts of electric signage on their properties and they see LED signs as a way to control energy costs and still have a great sign."
过去,客户订购的槽型发光字中使用的照明是霓虹灯,而现在,客户可以有了更好的选择。Direct Sign Wholesale公司的营销经理Michael Bluhm说:"当我们的客户选择使用LED时,通常是基于节能的因素,我们大多数项目服务于私营企业,这些私营企业会经常更新标识,同时,他们也看到了LED是有效地控制能源成本的一种方式。"
"The most effective color for us is red and we usually use GELcore's Tetra product lines for our channel letter lighting. Occasionally other LED color requests come in as well. White is the second most quoted color, but it's quite a bit more expensive. Despite the higher cost, we occasionally get an order for white LEDs. In one instance, we had a sign that was a six foot oval logo, followed by fourteen 35-inch letters, all to be filled with white LEDs. Its design was no different than any other LED sign we've installed. We faxed the LED manufacturer the artwork which specified the size, style and font of the channel letters. They reviewed the drawings and determined how many LEDs were needed for each letter and that's how we populated it."
Michael Bluhm说:"我们生产的LED产品中,客户选择使用最多的是红色,偶尔会选择其它颜色,白色是第二大引用的颜色,但是成本比较贵。过去我们得到过一个白色LED的订单,那是要制作一个6英尺椭圆形标识,十四个35英寸字母,全部都装满白色LED,在制作前,我们先跟LED制造商沟通字母的大小、格式以及字体,他们审查了所有条目后,才确定每个字母需要多少个LED。"
LED lighting is definitely part of the future of channel letters as Bluhm of Direct Sign Wholesale noted, "We see a slow steady use of LEDs for our sign work. At this time our LED channel letter is about 5% of all the channel letter fabrication we do. ESCO's Zeck says that for LED installations on her signs, some days are busier than others, but one thing is certain, that activity is slowly growing as more people understand LEDs as a usable light sourcefor channel letters.
LED是槽型发光字重要的组成部分,Direct Sign Wholesale公司的Bluhm指出:"我们看到LED照明技术稳定地应用于我们制作标识的工作,并且需求越来越大,技术更新的越来越快。对于LED装置而言,外行人觉得复杂,但实际上却是越来越精简,还有一点可以确定的是,随着越来越多的人将LED视为槽型发光字中不可或缺的信号源,它将为标识制作商带来更多的创新方向。"